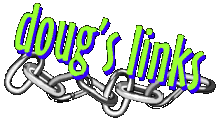 Some of my favorite sites:
Wolves, birds, outdoors and recreation
(Thanks! to Anonymomma for the wolf portrait below).
Out in the city for art, museums, and more . . . like Gargoyles!
TV, Radio, and News . . .
Music would be nice right about now!
Software Sites . . .
Free fonts for your browser . . .
Several of these fonts are specified within the pages of this site.
Microsoft's Free TrueType Fonts and Utilities If you are using the latest version of Microsoft Internet Explorer or Netscape Navigator to surf the web, you're missing a lot if you don't pick up a free font pack from Microsoft. More and more web sites will be specifying fonts to add visual interest; go get them . . . did I mention they're free?
Check out Microsoft's free type smoother while you're at it.
And a miscellaneous mix . . .
Back to
Doug's Web Window